A while back I posted
http://beyondmydaw.com/forum/showthread.php?tid=225
which is about Monitor FX in different DAWs.  What I described for Studio One works fine, but there is a better way.  If you follow this thru you'll also get exposure to some other cool stuff you might not have already seen.
Monitor FX in Studio One
The first step is to set up the outputs.  The important bits are
1) Create a new monitoring out routed to the hardware outs your monitoring gear is connected to.  
2) Set the outs for Master to None
Mine looks like this
In the Master Channel Editor, add a Splitter and your Mon FX, with an instance of Pipeline at the bottom of the chain.
Set the Splitter level for this leg to -inf. This will prevent the Mon FX signal from reaching the render stream if Pipeline
gets bypassed.
Lastly, configure Pipeline as shown, with Send set to the previously configured Monitor output and Return set to None.
The final step is to make the monitor output visible in the mixer for monitor level and metronome (the Master metronome is now silent):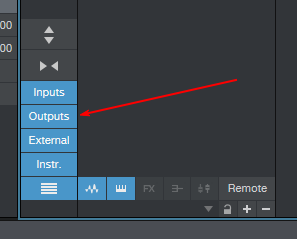 Rock and Roll!!  Now you can have Master FX in the Master Inserts with no need to bypass for mixdown, and no extra buses to futz with.  Complete with listening level control that has no effect on mixdown level.
Many thanks to Supt4 (PreSonus) for teaching me this ...
EDIT:  Added monitor out visibility.  I have also changed my config by adding ARC2 to the Monitor Inserts, leaving only the Pipeline plug in the Master Post bin.  This way I can add/change settings for monitor FX in the Monitor strip, which works better for my head.